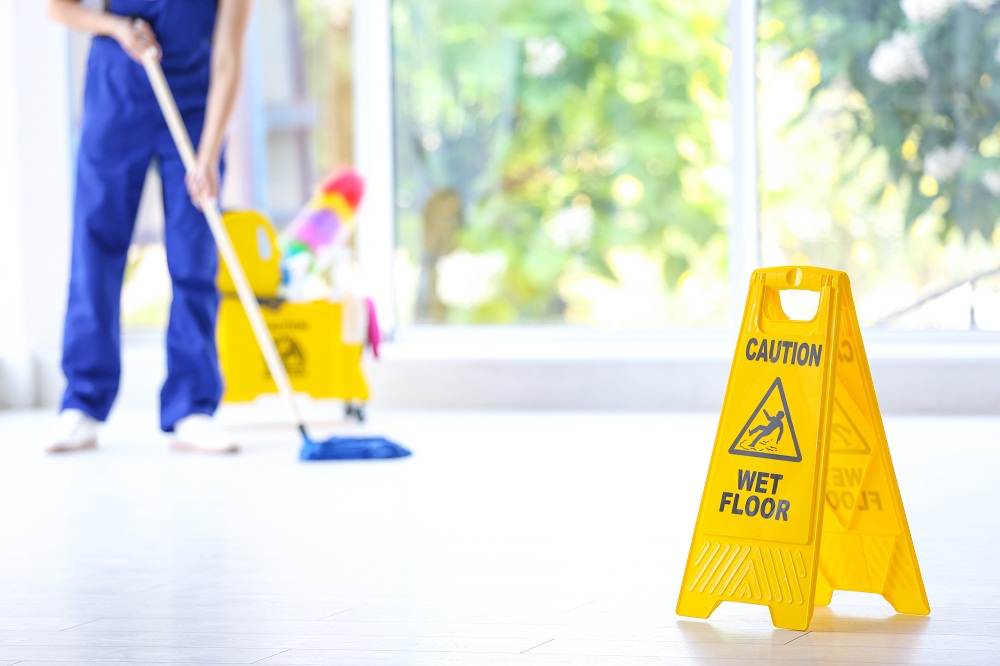 During flu season, it's particularly important to keep your business clean. The flu virus is contagious and that means if one employee or customer is infected, the flu could spread to much of your workplace. You've heard about the need to wash your hands and get a flu shot to prevent catching the flu, but something you may not have heard as much about is how crucial it is to keep your business's floors clean. That's why you should hire a reliable company for your commercial floor cleaning in Champaign, IL.
Germs on the Floor
Germs don't just gather on desks, computer keyboards, and doorknobs. They can also find their way to the floor. The floor can harbor a flu virus long enough for someone to touch the floor and become infected. In fact, flu viruses can survive on hard surfaces, such as hardwood floors, for up to 48 hours. Germs can linger in the carpet. That's why you should take extra precautions during the flu season to protect your employees. Have your business cleaned daily and throughout the day if your business has a lot of customers or patients.
Who's Affected
Employees in some occupations are more suspectable to the spread of flu than others, but just about any type of business can be impacted, including:
· Hospitals: Many people seeking treatment for the flu enter the hospital. The hospital's staff, as well as visitors to the hospital, can pick up the flu virus.
· Restaurants: Depending on the size of your eating establishment, your business could see a lot of diners during the day. An infected person could leave a germ on the floor.
· Retail: Flu season hits during the holiday season when there are more shoppers than usual.
· Office: Even if your business doesn't have outside customers, employees are coming from home, from subways or buses, or from a fitness center where they may have picked up the flu virus.
A clean floor is a way to decrease the chances your employees come down with the flu. You want to be as vigilant as possible to keep your employees healthy and productive.
Disinfecting Floors
A good commercial floor cleaning service will use a disinfectant on the floors. Just sweeping or mopping with water and a cleaning liquid may not be sufficient to remove flu germs. The flu has many strands, so find a cleaning company that uses a disinfectant that's effective against all strands. The key is to kill the virus before it spreads to you and your employees. You can find a company that brings its own cleaning materials, so you don't have to worry about finding a safe place to store the products.
Mops
The best mops for the job are flat and are made of absorbent microfibers. The mops must be able to remove germs from small cracks, crevices, and pores in the floor. Absorbent microfibers lock the dirt to the mop, while traditional mops can leave particles on the floor.
Eco-Friendly Products
A cleaning company knows what products are eco-friendly. You want products strong enough to disinfect the floor, but you want a product that's safe for the environment. You don't want the cleaning product to have an adverse impact on the health of you, your employees, or your customers.
Call Floor Show in Champaign, IL, at (217) 254-3161 for high-quality commercial cleaning. Our experts will clean and sanitize your floors to help you keep you and your employees healthy during flu season.
Residential Floor Cleaning For a Healthy Living Space
Depending on the kind of floor you may have, Floor Show helps clean the floor with the help of our professional team and modern equipment.
There are some corners and indents on your floors, which are overflowing with dirt and bacteria that your naked eye cannot see. Our Allergy Relief service disinfects and deep cleans your floor thoroughly and makes your floors children-friendly. This service comes especially handy if you have an infant in your home.